First Baptist Church Clayton Children's Ministry (FBC3M) is a ministry of coming to know Christ through loving, serving, learning, and growing.

We invite you to do ministry with us!
Upcoming Events
Christmas Caroling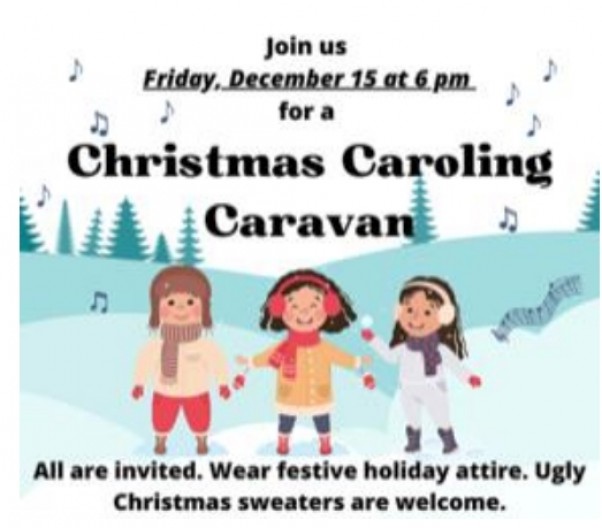 Opportunities for Involvement
Sunday Mornings :
Worship Service at 9:30 a.m. in person.
The weekly worship service is streamed Live on FB Live or the Church Website (fbcclaytonnc.org). Nursery is available for infants – 3-year-olds during the service.
Sunday School: 10:45 on Sunday Mornings at the Church.
Sunday School is a ministry where we commit to pour into the spiritual formation of our children from birth through 5th grade through studying the Bible and encouraging a time of engaging with questions and learning at age-appropriate levels. Please note, classes are based on the child's age as of 8/31/22 or current grade level:

Infants Sunday School (birth-1 year)
Toddlers Sunday School (1 and 2-year-olds)
Preschool Sunday School (4 and 5-year-olds)
Kindergarten-2nd Grade Sunday School
3rd-5th Grade Sunday School

Mix It Up Handbells 11:45-12:15 for 3rd-5th Graders.
Music is a big part of learning and growing at FBCC. Handbells provides a fun and creative way to explore music and worship.
Wednesday Evenings:
Wednesday programming is a time to put "loving others" into action. Through Mission Friends, GA's, and RA's our children learn what it means to be a missionary of the gospel message through service poured out from love for all God's people. Wednesday programming will begin on Wednesday, September 13, starting with a fellowship meal in the Fellowship Hall at 5:30. Children 3 and under are free. Adults will need to pay $8 and children $4. Programming is from 6:15-7:30. Children may not be left without supervision until programming begins at 6:15.
6:15-7:15 Mission Friends and Shine Choir – Ages Pre-K through Kindergarten
6:15-7:30 A combination of Girls in Action (GAs) – Girls in 1st-5th Grade, Royal Ambassadors – Boys in 1st-5th Grade, and Choir and Crossfit Games for all children ages 1st-5th grade, depending on the time of year.
Retreats, Vacation Bible School, camp, service projects:
Additionally, we have retreats, Vacation Bible School, camp, service projects, and other meaningful ways to do ministry together in FBC3M.
Stay connected with us in FBC3M as we continue to love, serve, learn, and grow in creative, new ways! Be sure to follow us on Facebook and Instagram at FBC3M and join our Remind Text group by texting @fbc3m to 81010. Even better, register to be a participant or volunteer with FBC3M through the following link: COMING SOON.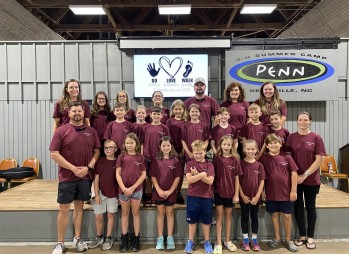 Fall Retreat
Friends Retreat 2023 was a blast! We loaded up 17 of our third-fifth graders and headed to Betsy Jeff Penn to gather with 9 other churches and over 100 children for a weekend of learning, fellowship, play, and FUN! The theme was Compassion: Learning to Love Like God. We explored what it means to do justice (🖐️), love kindness (❤️), walk humbly (🦶) through Bible stories, games, response, worship, and crafts. FBC3M kids participated in worship and Bible story time as they experienced the lesson with their peers. The laughs, smiles, excitement, and joy were hard to contain! We could not have asked for better weather as we enjoyed a gorgeous weekend outside with friends. This retreat simply wouldn't be possible without the hands, hearts, and feet of our incredible chaperone crew. As we go into the week and days ahead, may our own hands, hearts, and feet mirror Jesus, our very best teacher, as we do justice, love kindness, and walk humbly, wherever God leads  🖐️❤️🦶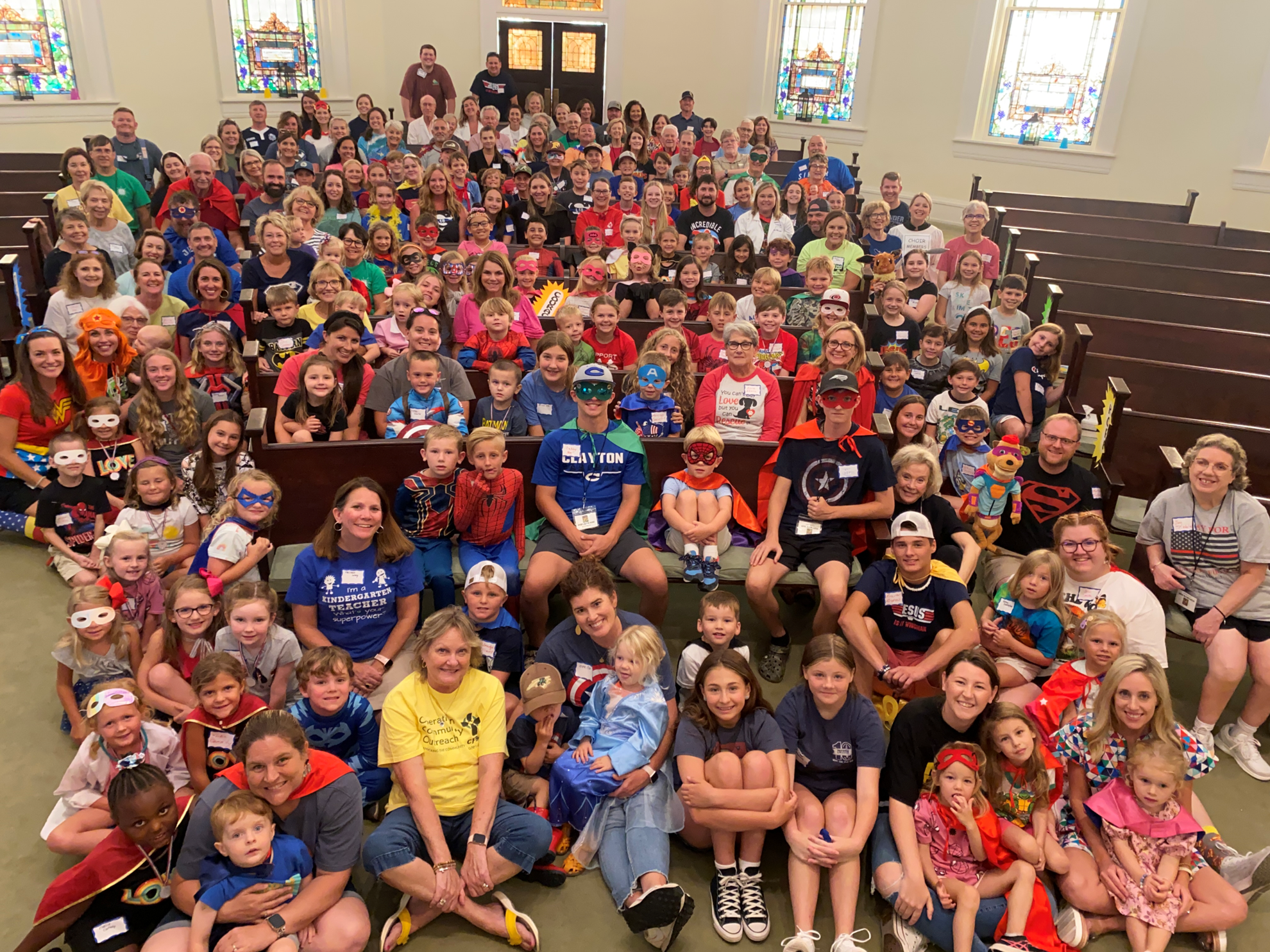 VBS 2023
VBS was SUPER! Through science, music, crafts, games, Bible Story, and assembly time, our amazing volunteers brought the messages to life in fun, meaningful, and creative ways. Together, we truly strived to do what our hotline verses says – to do things that bring peace and build each other up. And it showed in big, small, and lasting ways.
We raised DOUBLE – YES DOUBLE – our Missions offering goal of $4,000. That means not only will we get to kick off our ministry year packing 10,000 meals for Rise Against Hunger on September 6, we also will be able to sponsor a second event later this fall.
To all of our VBS Participants and Volunteers – Thank you again for an amazing week. I am grateful for the time you invest, the offering you so generously gave, and the love you poured out through VBS. You "caught the vision" and gave it light and life. You helped make a path for effective ministry by modeling what it looks like to be equipped and empowered to do the work God has called and gifted you to do.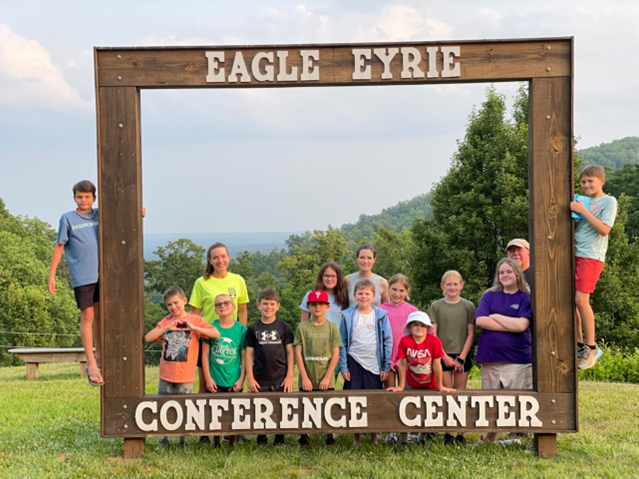 Passport Kids
PASSPORTkids Recap:
When we arrived Wednesday, July 14th, we were welcomed by the smiling, energetic, kind, and gifted PASSPORTkids staff from
the moment our bus turned onto campus!
We worshiped together, played games, laughed, made friends, and kicked off a great week of camp. We prepared for the week, listening to the words of Jesus from Matthew 4:17: "From that time, Jesus began to announce, 'Change your hearts and lives! Here comes the kingdom of heaven.'"
On day two, we focused on letting God change how we think. Using Romans 12:2 and the parable of the prodigal son, our children
were challenged to think like God thinks – about ourselves, about other people, about the world.
On day three, we focused on letting God change the way we see the world. Using 1 Samuel 16:7 and the story of Jesus healing a crippled woman on the Sabbath, our children were challenged to see the heart of people, not focusing on outside appearances. God loves and values every person.
Contact Us
Need more information on the Children's Ministry