At First Baptist Church, music has always been a part of our rich heritage. We believe that making music to the Lord is an expression of the Christian life and is a vital part of corporate worship. (Ephesians 5:19-20) On Sunday mornings, we utilize the tradition of choral singing to provide leadership for congregational songs, and to teach, encourage, and call to action the congregation through choral anthems. Through various music groups, FBC provides opportunities for members to develop their musical gifts.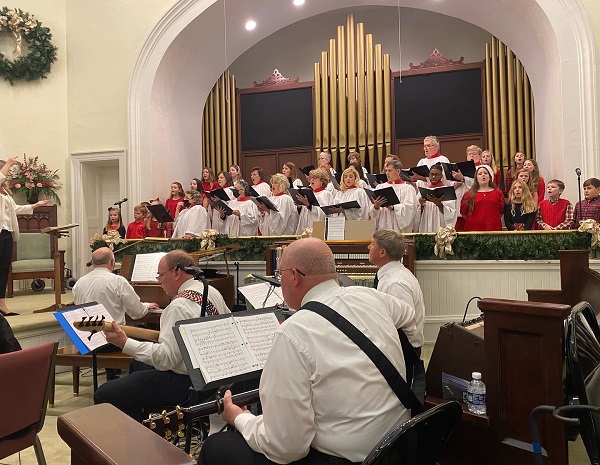 The Choir
This adult choral group sings during the 9:30 a.m. worship service and at various other special services. Practice is held on Wednesdays at 7:30 pm in the Choir Room.
Handbell Choir
This adult handbell choir plays at various worship services throughout the year. Practice is held Wednesdays at 6:30 pm in the Handbell Room upstairs.
Praise Band
The Praise Band is a mixed group of adults and youth who play and sing during Youth Worship on Sunday evenings, at special church events and upon request. They practice at various times throughout the week.
Children's Choirs
There are 3 children's choirs that meet on Wednesdays nights: The Shine Choir (Preschool, 3 years old and up), The Joy Choir (Kindergarten and First Grade) and The Music Makers (2nd -5th Grades). You can find out more information about these choirs under the Children's Ministry page.
If you would like more information about one of the various Musical Groups or would like to know how to get involved, contact Keeley Tarkington, Director of Music, at
ktarkington@fbcclaytonnc.org or call 919-553-4161 ext. 1028